Massage Therapy consists primarily of hands-on manipulation of the soft tissues of your body, specifically your muscles, connective tissues, tendons, ligaments, and joints for the purpose of optimizing your health.
Massage Therapy has a therapeutic effect on your body and optimizes health and well-being by affecting your muscular, nervous, and circulatory systems.
The goal of registered massage therapy is to improve and maintain your function, as well as improve your pain and stress levels. Massage therapy treatment has many benefits for our body and quality of life.
Choose a perfect massage that helps to reduce stress, relieve tension through deep relaxation, relax tense muscles, increase blood circulation, promote healing, and help with chronic conditions such as arthritis and fibromyalgia.
Types of Massage Therapy Services:
Therapeutic Massage is used as a treatment for new or longstanding health conditions such as back pain, neck pain, tendonitis, and others. It can be used to help with healing as well as prevent conditions.
Sports massage is used as a treatment before and after athletic events. It can help prepare for an event and assist with recovery following an event to reduce stiffness and soreness with the goal of reducing recovery time.
Deep Tissue Massage is used to focus on deeper muscles, tendons, and connective tissues. It uses similar techniques as other forms of massage with more pressure or intensity. It may be less comfortable than other forms of massage.
A Swedish massage is a form of bodywork that focuses on deep tissue work and muscle release. The therapist uses slow strokes and long gliding movements to help relax tense muscles and relieve stress. This therapy has been used for centuries to treat pain and injury and is now widely practiced around the world.
Benefits of Massage Therapy Treatments
Our massage therapy program offers a wide range of benefits to help you reach your health goals. The most common benefits include relaxation, increased circulation, reduced muscle tension, improved range of motion, relief from feelings of pain, and improved sleep quality.
Relaxation – The trained techniques of a registered massage therapist can provide relief from physical and emotional stress with a wonderful relaxation massage.

Pain Management – Massage helps with both acute and chronic pain relief in sore muscles, including chronic pain syndromes through myofascial release.

Mobile Massage Practitioner -Servicing Cambridge and Surrounding areas in the comfort of your home or office!




Source:

kijiji.ca

Stress Relief – Deep pressure applied to specific areas of the body can release endorphins that make clients with stress feel better.

Improved Blood Circulation – Massages stimulate blood flow and lymphatic drainage, which increases oxygen delivery throughout the body. They also help to lower blood pressure levels.

Enhanced Immunity – Regular massages can strengthen the immune system and prevent illness by improving lymphatic flow.

Increased Flexibility – Proper massages can loosen tight muscles, allowing the body to increase its range of motion and improve physical function.

Increased Awareness – Massaging stimulates the senses and improves concentration.

Reduced Anxiety – Massage reduces anxiety and promotes relaxation.

Improved Sleep – Relaxing massage treatments have been shown to improve sleep quality and duration.

Increased Energy – Massage releases natural energy reserves and gives you an overall sense of well-being.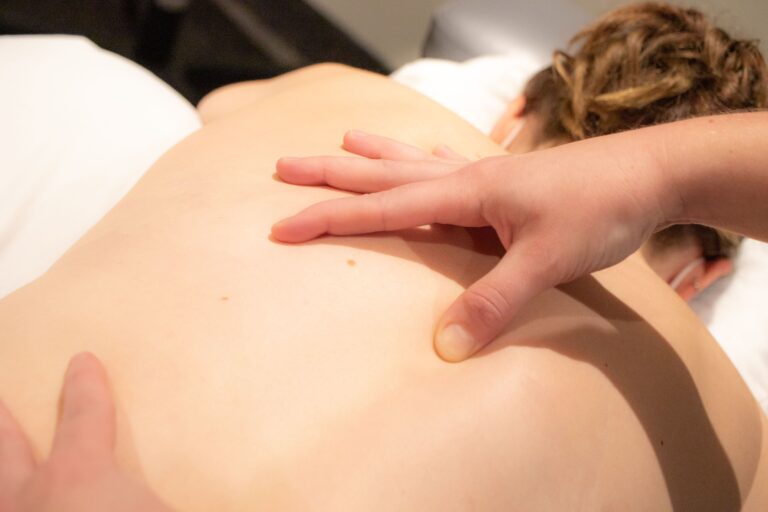 Common Conditions Treated With Massage Therapy
Our massage therapy can be helpful in treating a broad range of conditions. Some common ones include:
Arthritis Pain

Back Pain

Jaw Pain

Bruising

Chronic Pain

Chronic Fatigue Syndrome

Foot Pain

Fibromyalgia

Tension Headaches

Acute Injury Rehabilitation

Knee Pain and Injury

Muscle soreness and spasms

Neck Pain

Targets Nerve Endings for Fast Pain Relief

Post-Operative Care

Repetitive Strain Injuries

Sports Injuries

Shoulder Pain and Shoulder Tension

Stress Management

Tendonitis/Tenosynovitis

Connective Tissue Injuries

Wrist/Hand/Elbow Pain

Acute Pain Issues

Chronic Muscle Tension

and more!
What Happens During A Massage Therapy Session?
A typical massage session begins with a consultation where we discuss your detailed health history assessment and wellness goals. We then create a personalized massage therapy plan and approach to healing based on your needs.
Your professional massage therapist will use their hands, knuckles, elbows, forearms, palms, fingers, and thumbs to apply pressure to various points to achieve optimal results.
How Long Do Massage Treatments Take?
Most treatments take 30-60 minutes depending on how many different techniques are used. However, some treatments can last longer if there is a lot of soreness or inflammation present. Depending on your issue, we might ask you to come for follow-up appointments to continue your recovery.
Who Can Benefit From Massage Therapy?
Anyone who wants to benefit from massage therapy should consider it. There are no age limits, although people over 60 may need to modify certain techniques. People who are pregnant or nursing should not receive deep tissue massage due to the risk of injury to the baby.
Why Choose Our Massage Therapy Team?
At Strive Physiotherapy & Performance, we focus on using our clinical experience and extensive knowledge to rehabilitate and prevent injury.
At Strive Physiotherapy & Performance, registered massage therapists work as part of a multidisciplinary team. Working collaboratively with our physiotherapists, our Kitchener-based health care practitioners are able to offer a comprehensive treatment plan that is highly effective.
Over the years, our synergistic approach to healthcare has produced positive results when it comes to accelerated recovery and prevention of future pain or dysfunction. We are a caring team of licensed health care professionals, ensuring you are well-informed of your care and progress.
Get Rid of Pain and Achieve Your Health Goals
We've worked hard together as a clinic to be focused on what matters most: YOU! Our goal is to help you with pain and injury recovery, and getting you back out there doing those daily life activities you love again – no matter how big or small they may seem! Our Kitchener massage therapy clinic is always at your disposal.
If you have any questions about our services, please feel free to call us or book a massage therapy appointment. Choose our amazing team and get back on the move today!