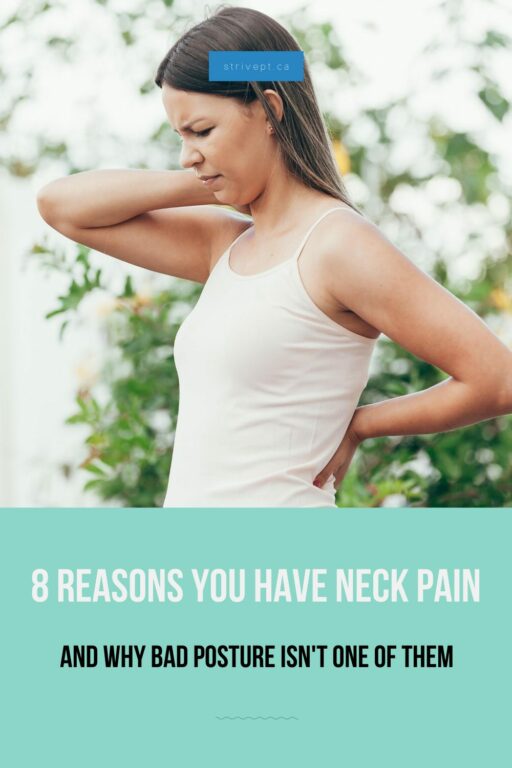 Neck pain and spinal pain are one of the most common complaints we hear about in our clinic. Symptoms and resulting functional limitations can be very similar to those of acute low back pain. The pain and stiffness can cause reduced range of motion, difficulty sleeping, and moderate levels of discomfort.
Here are some quick facts:
In 2016 "more than a third of a billion people had neck pain of more than 3 months duration" –   Hurwitz et al 2018
Management focuses on education, range of movement exercises with associated postural improvement and strengthening exercises; neck braces should not be used – source
The 2010 Global Burden of Disease Study found neck pain to be the fourth leading cause of work disability worldwide.
(Vos T, Flaxman AD, Naghavi M, Lozano R, Michaud C, Ezzati M et al. Years lived with disability (YLD's) for 1160 sequelae of 289 diseases and injuries 1990-2010: a systematic analysis for the Global Burden of Disease Study 2010. Lancet. 2012;380:2163-96)
From 1990-2010, there was a 47% increase in disability related to neck pain globally. – Physiopedia
At any given time, 10-20% of the population reports neck problems – (Childs et al.)
Does Bad Posture Cause Neck Pain?
Poor ergonomics and 'bad posture' are often put to blame for neck pain, but is that really the case? Let's find out.
Neck Pain From Poor Posture
There is actually no such thing as bad posture. Having that perfectly straight back and open chest with your shoulders rolled back is what society has deemed to be more socially acceptable and pleasing, but is not necessarily better (or worse) for your back.
That 'ballerina' postural look that many people strive for is the result of years of hard work and strengthening of the muscles throughout your trunk. That doesn't mean the way you sit or stand is wrong.
In fact, science shows that your posture has little to no correlation with neck pain. Rather, in a study of 1000 teenagers, posture more strongly correlated with mental health, and physical activity levels. Being less active, working in high-stress jobs, lack of sleep, and depression have all been found as stronger risk factors for neck pain.
Were you told to sit up straight a lot as a child? It actually turns out that the important thing is to be comfortable, and not sit still! Changing positions and postures is the best way to help your neck and back, especially if you have a job where you are sitting for prolonged periods. Make sure you get up and walk around every 20-30 minutes, and do some simple stretches at your desk to keep your muscles moving.
So what are some actual causes of neck pain? Glad you asked.
8 Possible Neck Pain Causes
Muscle Strain
If you've read our blog before, you'll know that a sprain is an injury to a ligament, whereas a strain is a muscle injury. So when you strain your neck, there is an injury to one of your neck muscles.
There are actually 26 muscles in your neck. These help you support the weight of your skull, move your shoulders, rotate your head, and move your jaw. If you are really curious as to what they all are and where they are located, take a look at the image below.
A muscle strain occurs when the muscle fibres are stretched too far or overexerted. A small tear then occurs either in the muscle, tendon, or connective tissue between the muscle and tendon.
So how do you fix a strained neck muscle?
Most muscle strains will take a few weeks to heal completely, but it is common for most symptoms to decrease within a week. More severe neck muscle strains are typically caused by a trauma or accident, and these can take several months to heal.
Non-specific or Multifactorial Neck Pain
This is the kind of neck pain that occurs from stress, lack of sleep, a decline in mental health, and other psycho-social factors. If you have neck pain without a known cause, keep it moving! Exercise is crucial for strengthening your neck and improving your discomfort over time.
Non-specific neck pain is increasingly common, with most people experiencing it at some point in their life. Here are some things you can do to try to alleviate your discomfort:
Heat pack. Applying a heat pack to a muscle helps to promote blood flow and relax the muscles. You can buy a heat pack from Amazon specifically for your neck here.
Exercises. Your physiotherapist will teach you stretching and strengthening exercises specifically targeted to your neck pain. You can then do these exercises at home on your own, as directed. Some of your exercises may look like this:
Joint Dysfunction or Irritation
Joints are the interaction between the bones in your spine, and are the locations that your skeleton can move. We can also consider the surrounding connective tissue (which includes ligaments) as part of the joint due to it surrounding the bony surfaces to provide more stability to it.
Sometimes, these bony interactions can be stressed by being pushed past their limit (which we can call a sprain), or the joint can simply become irritated by too much movement OR from not getting enough movement. Muscle tightness and spasms may come along with joint dysfunction or irritation as well.
When this happens, you may experience pain and stiffness with neck movement like checking your blind spot, looking down, or looking up. The time to recover varies. A very minor irritation may just take a few days to loosen up and feel better. A more severe irritation may take a few months to go away.
Disc Herniation
Your spine consists of several bones, called vertebrae, that stack on top of one another. In between each vertebra is a rubber-like cushion, which is referred to as a disk. These disks have a tough rubbery exterior, but a softer jelly-like center (the nucleus). A herniated disc is when that rubbery exterior (the annulus) has a tear or rupture, and the nucleus begins to push through.
Disc degeneration is completely natural, and happens as we age. During this natural degeneration, herniations can occur. However, a herniated disc does not always mean pain. You could have a herniated disc and have no pain! A herniated disc will begin to hurt when the herniation is pressing on a nerve along your spine.
A herniated disc can also be caused by an acute injury or strain, but typically this would be a more excessive injury.
Working with a physiotherapist can help you keep moving and assist with pain management.
Nerve Irritation
Did you have a younger sibling that got on your nerves sometimes? Constantly poking you, entering your space, and you could only take so much of it? Nerve irritation is not dissimilar to this situation.
Think of yourself as the nerve. You're living your best life, providing functional control and sensations to the body. Then one day your younger sibling, whether it be a muscle, ligament, or joint, overdoes it a bit. They begin to swell, become inflamed, and suddenly start entering your personal space. Poking you. Nudging you. Singing the same song over and over again until you almost forget any other music exists. You become very irritated.
In all seriousness, nerve irritations can occur when one of the structures next to it becomes injured in some way, and begins to irritate the nerve. This can cause muscle guarding, tingling, and radiating pain down your arm or leg, depending on which nerve is affected.
New/Prolonged Posture (including TechNeck)
As the technological world of laptops, cell phones, and tablets forces us to focus our attention downwards and inwards, many of us begin to feel pain, or stiffness in our necks, upper backs, or shoulders.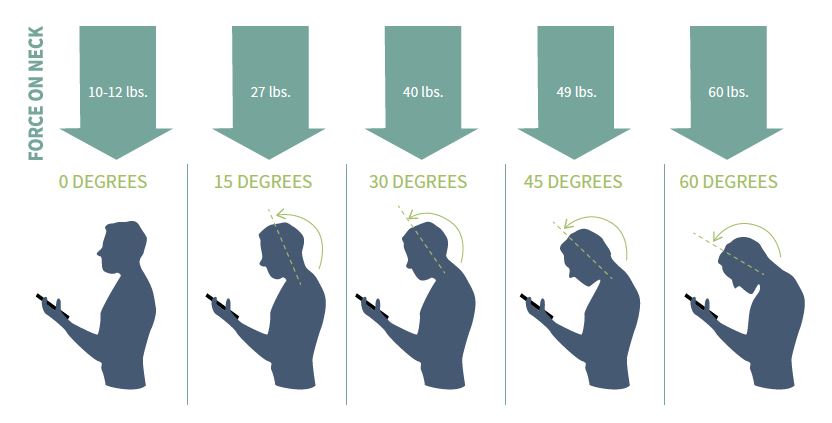 Our preferred cell phone posture leads to increased neck flexion, increased upper back kyphosis (forward curve), and forward/rounded shoulders. This is a position that is often held for longer periods of time (Have you checked your screen time report on your iPhone recently?!)
When this causes pain, it has been dubbed "tech-neck" or "text-neck".
If your cell phone, laptop, or tablet is bringing you down, bring yourself back up! Consciously think about your posture, activate some muscles, take breaks from your phone, and take care of yourself!
Start by noticing how you sit with your devices, and change your posture. This may not be comfortable at first, but if done in conjunction with some back, neck and shoulder exercises, improving this 'tech' posture is definitely doable. Hello strength, goodbye pain!
Whiplash
Whiplash is a neck injury most commonly associated with car accidents. It is when there is a rapid and forceful back and forth movement of the neck. This will cause multiple ligament sprains and muscle strains to the neck. Collectively, we call these injuries a  whiplash injury.
Car accidents are not the only instance where you can acquire a whiplash injury. Sports, falls, domestic violence and other forceful injuries can cause whiplash.
Having had whiplash previously, pre existing neck pain, and very high speeds at the time of injury may increase the severity of the injury, but most may recover within a few weeks.
The physiotherapy treatment you receive to help improve pain management and range of motion after a whiplash injury will vary from person to person. Treatment may include heat to promote muscle relaxation, rotating, tilting, and bending of the head and neck to improve range of motion, and strengthening exercises for your neck and shoulders.
Acute Torticollis
The exact cause of torticollis is unknown, but it is possible to acquire it from irritation to the cervical ligaments from a viral infection, injury, a severe burn on your neck, an injury to a neck muscle at birth, or secondary to a herniated disk.
Torticollis is commonly known as wryneck, for how your head becomes slightly rotated or tilted to the side.
If you have torticollis you may experience muscle spasms in your neck, neck pain, limited range of motion, and awkward positioning of your chin. Torticollis can resemble many other diagnoses, so please consult your doctor or physiotherapist to be properly diagnosed.
Do you  need help relieving your neck pain? Use our online booking tool  or give us a call at 519-895-2020 and we will be happy to get you moving pain free.
Cheers,
Chelsea